We speak to licensed producers of all sizes every day, so our customer success team is pretty clued up on the sorts of things Health Canada auditors request during their cannabis regulations inspections 📋
We thought it would be helpful to share some of this insight with you – hopefully, it'll help your facility be more prepared for your next audit!
Before we get started, it's worth noting that Health Canada requests vary from inspector to inspector, and they will be determined by the type of inspection you are having. What is clear, though, is that they are looking for extreme visibility and batch traceability from propagation and cutting through to sale. They're also looking to get immaculate records in their hands quickly.
What is the purpose of the cannabis regulations and inspections?
Health Canada regulates the cannabis industry in Canada, specifically the Cannabis Act, to ensure businesses follow the government's cannabis regulations. The purpose of Health Canada's inspections and audits is to verify that the cannabis producer is compliant with the cannabis act and cannabis regulations.
On an ad-hoc basis (typically every 6 months), Health Canada auditors will check that your facility is up to Good Production Practices (GPP) and security standards and that the cannabis products you produce are complaint from composition and quality, packaging and labelling and promotions standpoint.
What are the different types of inspections that check you are complying with cannabis regulations?
There are three different types of inspection that Health Canada conducts:
Regular
Sales
Targeted
Regular inspections cover any aspect of the Canadian cannabis regulations but often focus on GPP, product composition, packaging, and labelling.
A sales inspection is triggered when a company submits a sales amendment to Health Canada. The cannabis regulations require a cannabis producer to have a sales amendment (an add-on to a regular licence) to sell final packaged cannabis products to consumers in Canada. To receive this licence, cannabis producers must submit full batch records for two lots of cannabis per each form of cannabis (dried, extract, topical) to Health Canada. Once Health Canada reviews the batch records, inspectors will schedule an audit around GPP and the production of those batches.
Targeted inspections can be specific to a section within the regulations, for example, a targeted security inspection, or can be related to an observation from a previous inspection report.
What should I expect from a Health Canada Inspection?
Inspections can be planned or spontaneous (yikes 🥴)! The inspection begins when Health Canada shows up, and from there, everything they spot is fair game.
🌿
Pro tip: Avoid leading Health Canada inspectors through your facility (especially during a harvest) if possible. Ideally, set them up in a meeting room or office instead.
The Health Canada inspectors will ask you for documentation to help them assess compliance with their cannabis regulations. They can request records like:
Up-to-date floor plan
Organizational Security Plan (OSP)
Complaints and adverse events
You're expected to get these documents to the inspectors fairly quickly. Inspections can't begin without a floor plan in hand, for example.
The inspectors from Health Canada can review documentation and ask for any record in your facility. They typically look through records and dig in on complaints and adverse events to asses if you properly handled issues and the robustness of traceability within your quality systems.
Inspections will also include a facility tour where inspectors will assess the state of operation rooms and can ask questions about equipment and processes.
What are observations and compliance ratings under Health Canada's cannabis regulations?
After the inspection, Health Canada's inspectors will follow up with an inspection report detailing observations. Observations are any issues the inspectors noted in the documentation or during the facility tour that don't meet the requirements of the cannabis regulations.
There are three different types of observations
Minor
Major
Critical
The inspectors will also include a compliance rating, compliant or non-compliant. This rating is based on the number of observations you have and the severity of observations you receive. It's rare to get a non-compliance rating, and they're more likely to be given if a company can't correct previous observations.
You are responsible for responding to each observation and providing corrective and preventative actions (CAPA). Your responses must bring your facility into compliance and be satisfactory to the inspectors.
Recent Health Canada requests
We asked our customers what types of requests they'd had from Health Canada auditors during recent cannabis regulations inspections. Here are some examples:
"They wanted to go through every single batch from the last six months"
"They wanted a visual representation – a flow chart of the production process"
"Each batch also needed to be shown as a spreadsheet (a master batch record log)"
"They validate your inventory on-site with what you have recorded"
"Tracing plant lineage (moving from seeds to props to mothers and batches)"
"They wanted to audit recall procedures as well as our customer complaint procedures"
"They wanted batch records for all starting material"
Producers have to be prepared to answer some tough questions along the way, for example:
Can you show me your records that show the cleaning of your work surfaces and tools before trimming?
Can you show me your records for scale calibrations before you perform your harvest?
Can you provide me batch records for specific batches x,y,z?
Can you show me your sanitation records for this location before you start packaging?
How to improve cannabis audit quality
Preparing for a Health Canada inspection to show that you comply with cannabis regulations is more than just impressing your inspector and being in good standing with the regulators.
Proper preparation can reduce the inspection duration and the number and severity of observations, meaning that your team is spending less time on corrective/ preventative actions (CAPAs) and writing responses to Health Canada.
If you're handed a hefty inspection report from Health Canada riddled with observations, you're pretty much shutting down your normal operations to mitigate the situation for Health Canada. Ask yourself, can you afford to do that?
Here are tips to help to better prepare for your next Health Canada cannabis inspection:
Ensure commonly requested documents are up to date (OSP, SOP list, Inventory list, floor plan, etc.)
Put together a list of inspection best practices outlining the roles and responsibilities of team members (e.g. stop operations, remove anything from the floor, properly label everything, tidy up, stock up PPE, etc.)
Put together a dedicated inspection team
Schedule mock inspections (internal or external)
If you follow those steps, you will be in better shape for your next inspection. Our trusted partner Canfolia Consuling Inc. can help if you need extra support.
Keeping on top of cannabis regulatory compliance and recordkeeping
It's easy to slip into a poor state of recordkeeping with every single action required to be documented by Health Canada (as our consultants tell us, if there's no record, it didn't happen).
The dozens of transactions between production, inventory, quality, and finance must be meticulously recorded in a presentable form for Health Canada. These batch records can be hundreds of pages long!
For many producers, the data needs to be retrieved from various silos such as:
QMS
Spreadsheets
Paper records stored away in batch binders
Whiteboards
People's heads!
Imagine if Health Canada came into your facility tomorrow and they wanted to see your batch records. They are diligent, thorough, and extremely attentive to details, and they will ask many questions; anything out of place or questionable will invite further scrutiny. No one wants to hide anything, but inspections are thorough, and it's in the interest of everyone to have a smooth review.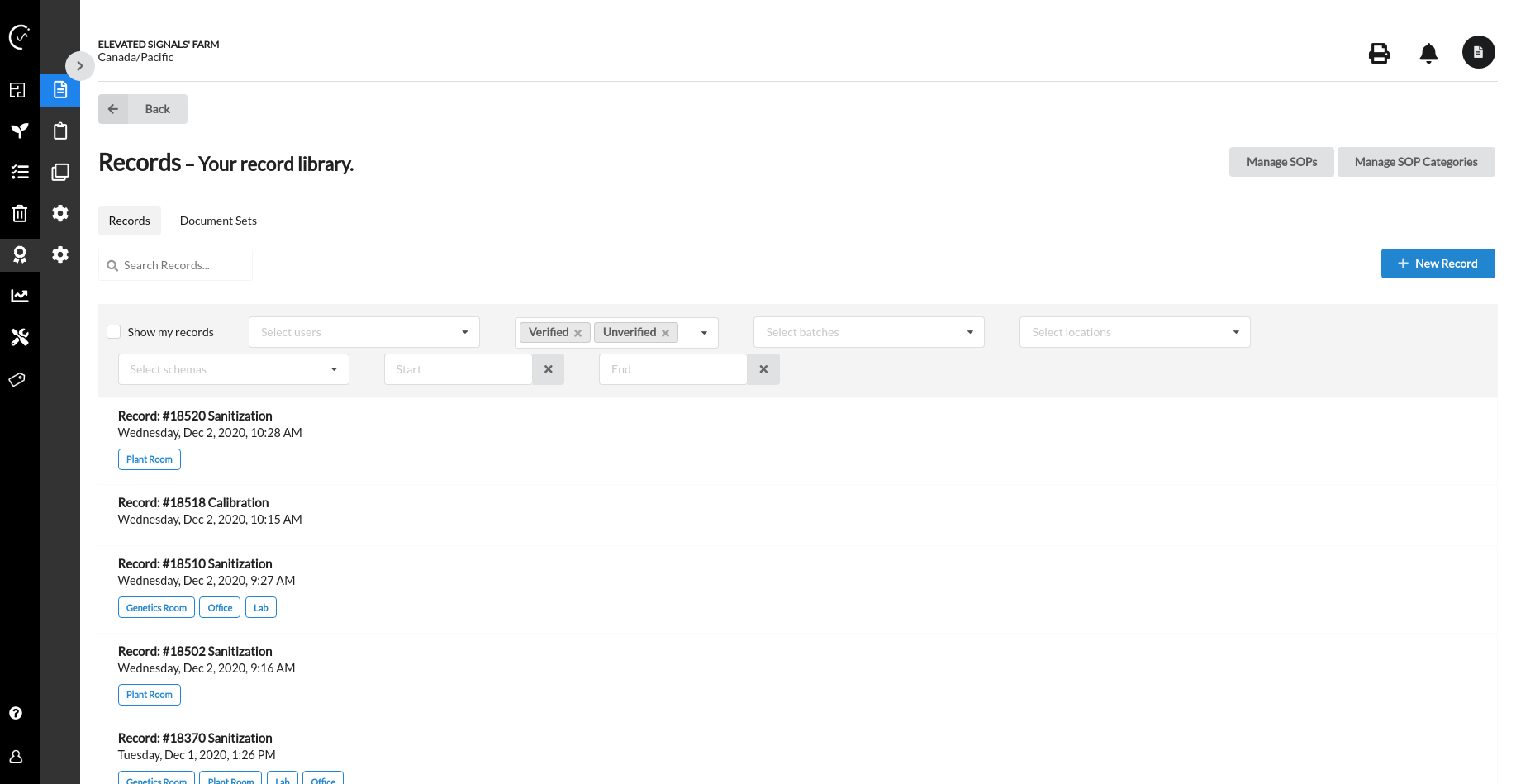 Integrated systems mean batch records and inventory data in one place, retrieved in seconds
Managing quality and inventory on a non-integrated system is both inefficient and costly.
Elevated Signals helps QA/QC teams automatically generate chronological batch production records according to GPP and GMP standards and maintain compliance with cannabis regulations.
Our electronic batch records contain all the quality and inventory details required for audits, helping your move off disjointed software and paper-based systems into a secure, consolidated, and efficient platform.
If you need help streamlining your manufacturing operation and want to make the audit process less painful – get in touch!
We'd love to demo our software and show you how we've helped top producers, including Pure Sunfarms, Rubicon Organics, 314 Pure and many more, achieve a 100% success rate on their regulatory audits.

---
Subscribe
Join the newsletter to get the latest updates.
---