Welcome back to the partner spotlight! At Elevated Signals, we work with the industry's best to bring our customers valuable insight and support to help their businesses thrive. Our partners have tried and true expertise and experience, and we're excited to showcase their services and thought leadership through this series.
Today we're highlighting one of our trusted electronic Quality Management System (eQMS) partners, C15 Solutions. Its software helps cannabis businesses manage and organize quality documents and systems, including deviation handling, complaints, root cause analysis and investigations, Corrective Actions/Preventative Action (CAPAs), risk assessments, audits, vendor qualifications, training, preventative maintenance and change controls. If you're a bit confused about the difference between cannabis eQMS, Manufacturing Execution Systems (MES)  and Seed-to-Sale software, make sure to check out our buyer's guide. Spoiler alert, cannabis eQMS and MES (like C15 and Elevated Signals) are complimentary. 😉
We sat down with Sean Samuel, VP of Sales and Marketing at C15 solutions, to learn more about its eQMS, his perspectives on the cannabis industry and the biggest challenges facing producers in 2022.
What services does C15 Solutions offer?
"C15 has taken a widely adopted Quality Management platform from the pharmaceutical industry, called eQMS, and configured it specifically for cannabis regulations, regardless of the jurisdiction. eQMS addresses SOP management, quality management (i.e. deviations, CAPAs, food safety plans, COA analysis, supplier management, etc.) and training management for cannabis organizations. With 3-6 upgrades/year, C15's eQMS is 'future-proofed', often leading to enterprise-wide adoption."
"Additionally, we have just launched a second SaaS product to address another paint point for our customers - Brand Management! C15's new Brand Asset Management ('BAM') tool enables marketing teams to take control of their assets & IP, facilitate quicker reviews/approvals, digitally publish, and better manage any 3rd party creative agencies an organization might work with."
"Simply, we're a partner, not a vendor. We hire Subject Matter Experts (SMEs) in Quality Assurance (QA), compliance, cultivation and retail on our customer service team to ensure we have a crystal clear understanding of our customer's problems and how to solve them."
"We're the only eQMS platform that is pharma-grade and serving the cannabis industry exclusively. That and we hate Professional Service Fees, so we don't have any."
What type of businesses use your cannabis eQMS?
"We work with all kinds of growers, manufacturers, processors, and even testing & analytical labs. Our customers run the gamut from single-site cultivators to vertically integrated Multi-State Operators (MSOs). We also have many EU-GMP customers (we have aced the validation process) and are approaching 4,000 licensed users across 6 countries."
Also read: GPP vs GMP certified: The differences and why they are important
What do you think are the biggest challenges facing cannabis producers in 2022?
"In North America, we're seeing a couple of key issues: Standardized testing and employee retention seem to be big issues. Additionally, we're seeing massive consolidation, which leads to typical M&A issues; harmonizing processes & procedures (across different states/regs) and the general process of integrating a new asset into the core operation."
How did you first get into the cannabis industry?
"When we founded C15, we adopted the relevant section of the Canadian legislation (Part 1 Section 5 of the ACMPR). We foresaw the mission-critical nature of QMS and went to our technology partner, Veeva Systems (www.veeva.com). Our mission was to bring the "best" eQMS used by the global pharmaceutical giants and consumer packaged goods companies to the global cannabis sector. That was about three years ago, and our partnership since then has only gotten better. C15 can bring best practices to our customers; we co-develop new modules with Veeva, specifically for the cannabis sector and bring the resources of globally successful SaaS companies to our customers."
What is your favourite thing about working in cannabis?
"The 'trailblazing' factor - uncovering new problems/challenges in a nascent industry and developing creative solutions for them is incredibly rewarding. Being able to help our customers grow and watch them penetrate new (sometimes international) markets is also very exciting. We very much look forward to the globalization of cannabis."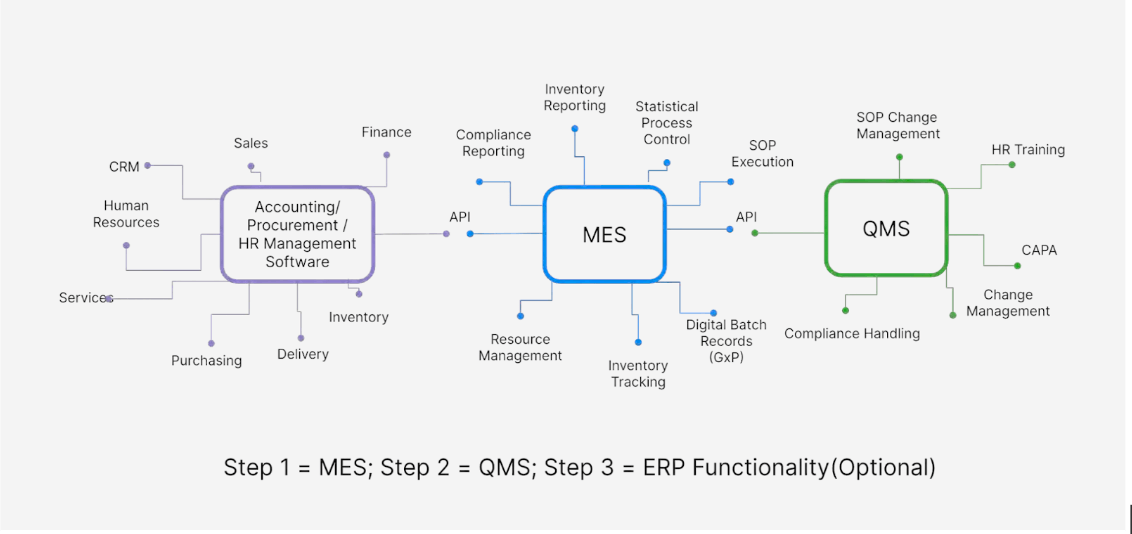 How Elevated Signals and C15 Solutions eQMS work together
Elevated Signals' manufacturing software and C15's eQMS software work synergistically to help cannabis companies achieve digital record keeping.
Elevated Signals manufacturing seed to sale software can help companies create and create digital records, automatically compiling them into batch records. It enables QA teams to review records remotely and have visibility into production in real-time.
C15's software is where SOPs and controlled documents live, allowing QA teams to log quality and compliance documents digitally. The software helps you digitally track deviations, complaints, CAPAs, investigations and change controls. On top of that, the system can keep track of controlled document revisions and staff training.
Many Elevated Signals clients choose to work with an eQMS to reduce the amount of manual paper and pen records and spreadsheets throughout the facility.
Want to learn more about the differences between cannabis manufacturing software and eQMS? Make sure to read our buyer's guide.
About Elevated Signals
Elevated Signals built manufacturing software for cannabis producers tired of battling paper, spreadsheets and outdated seed-to-sale software.
We help our customers streamline data collection & aggregation by combining digital batch production records, inventory tracking & environmental data into a single customizable platform. This allows our customers significantly lower costs & make informed decisions.
Want to learn more about our cannabis software can save your business time and money? Check out our products page or book a demo today!

Other blogs you might be interested in:
---
Subscribe
Join the newsletter to get the latest updates.
---