Exporting Cannabis to International Markets
Cannabis export is gaining momentum worldwide, driven by the expanding landscape of international medical cannabis programs. With the global trend towards cannabis legalization, established cannabis producers have a unique opportunity to meet the rising demand in emerging markets.
Simultaneously, domestic markets like Canada are reaching saturation points, leading to increased competition, price pressures, high taxes, and unfavourable payment terms, all of which can strain profitability. Consequently, many cannabis producers are eyeing export as a pathway to sustainable growth and financial stability.
In September 2023, we invited industry experts to speak about their cannabis exporting experiences. In this webinar, we explored the benefits and risks of exporting, and the panel shared real-world advice for cannabis producers interested in pursuing Good Manufacturing Practices (GMP) certification and export.
This blog will delve into the intricacies of exporting cannabis and the fundamental considerations for success in the global cannabis market.
Watch the full cannabis export video on YouTube
What is cannabis export?
Cannabis export refers to the regulated and legal shipment of cannabis products to other countries. Export and import are permitted in some countries where a legal framework is in place. Exporters are required to meet the domestic and import country legal requirements.
Who can export cannabis from Canada?
Only license holders under the Cannabis Act can export and import cannabis. Exporting cannabis is permissible for medical or scientific purposes.
How to Export Cannabis from Canada
Cannabis producers must secure an export permit from Health Canada for each shipment. To get this, producers must fill in an application form which includes transit and shipment details, an import permit from the destination country, and an attestation by a responsible person. Once submitted, Health Canada typically grants approvals within 30 business days.
Many international markets, especially those with medical cannabis programs in Europe, may require products to have been manufactured in EU GMP-certified facilities, highlighting the importance of meeting stringent quality standards.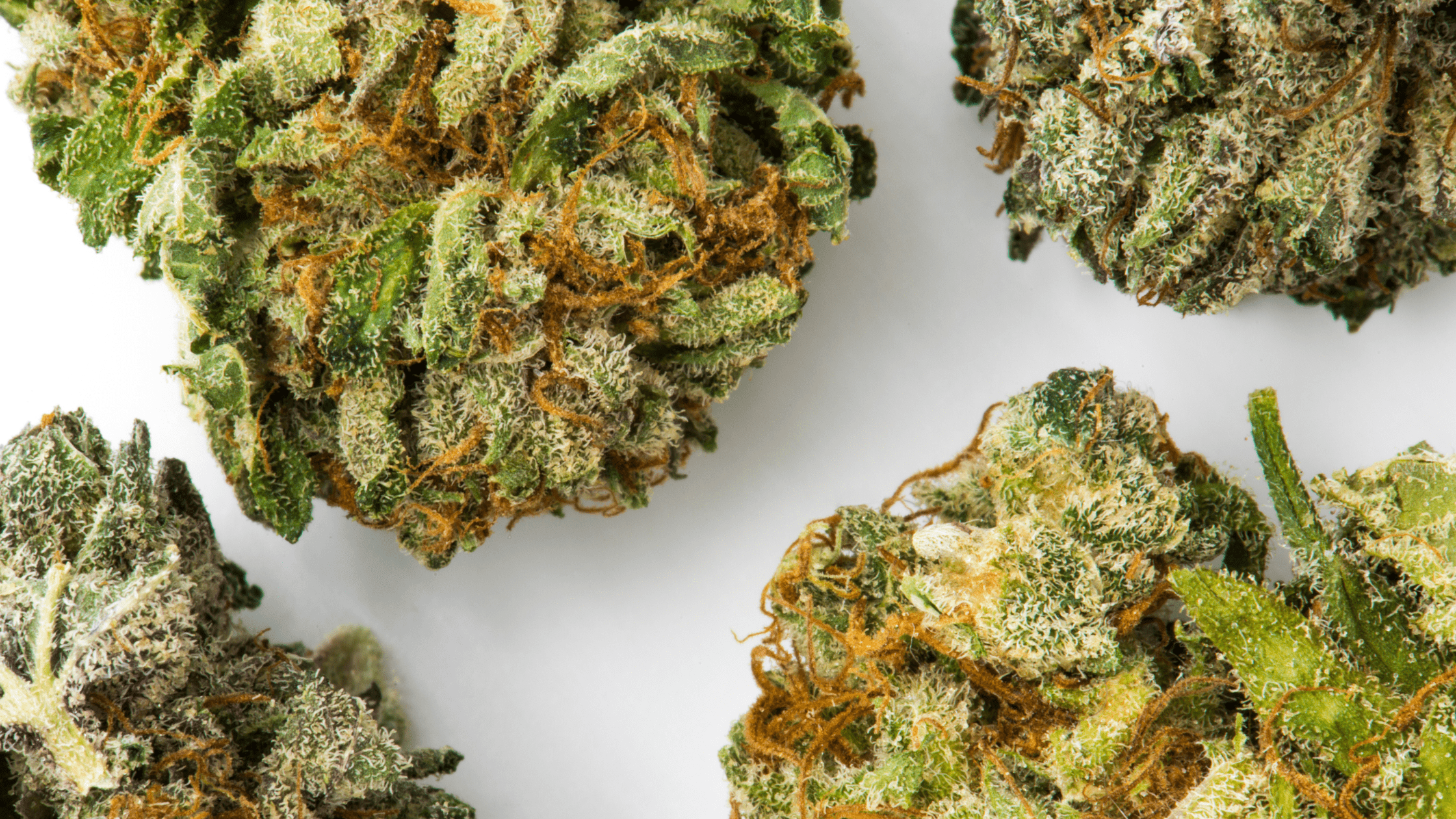 Five Essential Considerations for Cannabis Export
Cannabis Export Consideration #1: Building Partnerships
Finding the right partners is pivotal in your export venture. Partnerships can provide numerous benefits, including:
Partnering with existing GMP-certified facilities can provide you access to European markets without having to pursue certification yourself,
Building an international network can help you stay updated on regulatory changes globally,
Securing experienced consultants can help guide you through certification and compliance processes.
Trustworthy importing partners are essential for the smooth movement of your products abroad.
Cannabis Export Consideration #2: EU GMP Certification
GMP certification is a long-term commitment, taking 1.5 to 2 years to complete and significant financial investment. Before embarking on this journey, consult experienced advisors to set realistic timelines and budget expectations. Alternatively, explore other avenues for export, such as selling bulk cannabis via existing GMP licenses or attaining GACP certification.
Cannabis Export Consideration #3: Diversifying Revenue Streams
While cannabis export can be a great way to diversify your revenue streams, international markets are volatile, with saturating markets, price pressures, and regulatory changes. Make sure you don't put all your eggs in one basket. A variety of revenue streams is crucial for business sustainability, and you should consider different approaches, including domestic B2B sales, contract growing, or retail sales, as well as export. Tailor your strategy to suit your business's unique needs.
Cannabis Export Consideration #4: Flexibility
Flexibility is paramount in the dynamic cannabis industry. Depending on market conditions and immediate financial goals, you need to be prepared to adjust your priorities, whether that means exploring new revenue streams or temporarily shelving GMP certification. The key here is to focus on your long-term goals but understand that you might have to pivot quickly as markets and regulations change.
Cannabis Export Consideration #5: Focus on Your "Why"
Exporting cannabis should align with your organization's mission. It's not just about making quick profits but understanding the market, aligning with the right partners, and ensuring long-term success. Reflect on your reasons for entering the international market and craft a strategy that resonates with your core mission. The long game is essential to gain traction, secure your position in the marketplace, and reduce the risk of being pushed out due to price compression or increased competition.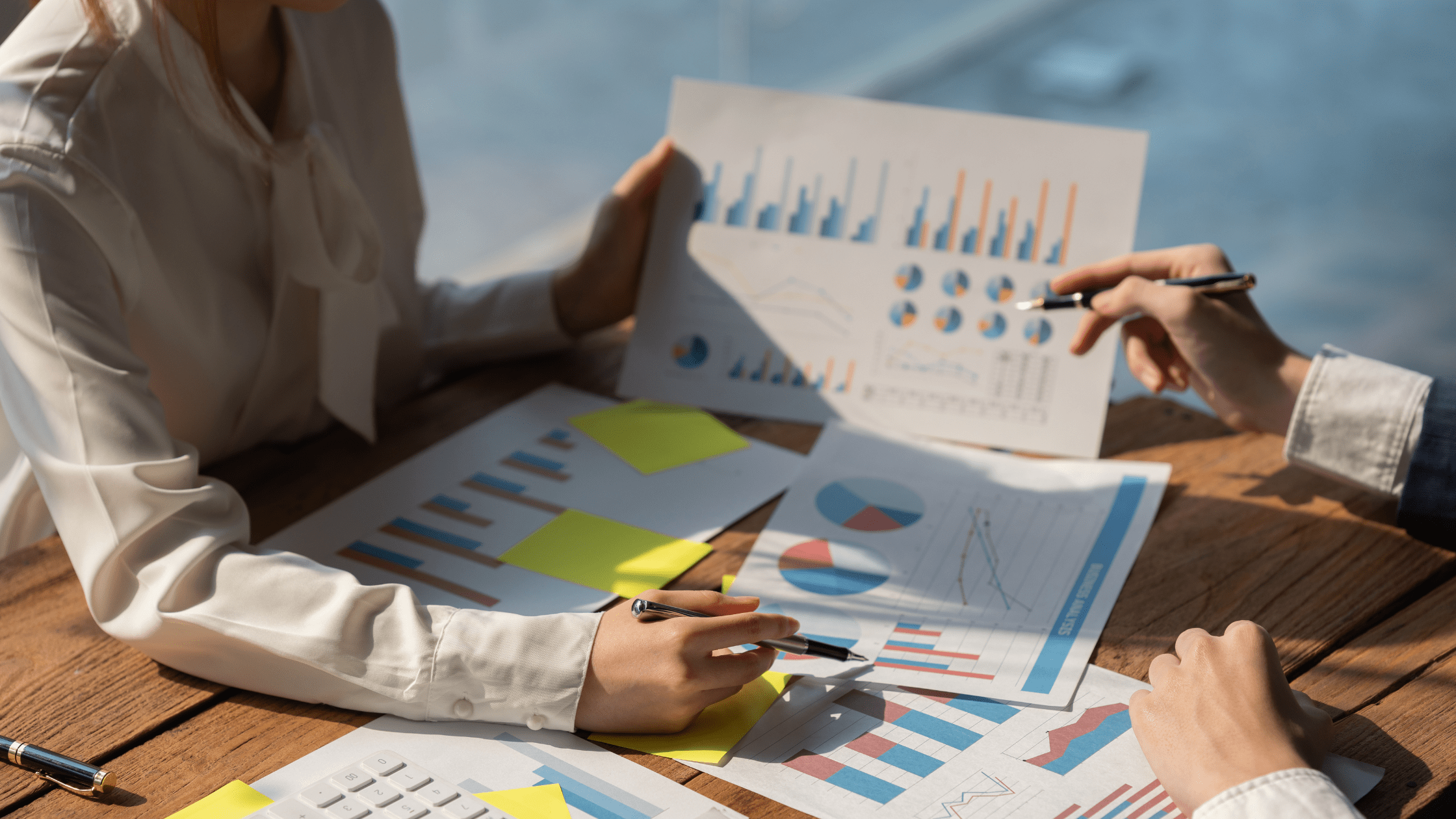 Building a Solid Cannabis Export Plan
If you aspire to sell into international markets, crafting a robust export plan is pivotal in ensuring your journey remains on course to certification success. Regrettably, many companies embarking on the path to GMP certification stumble along the way, primarily due to financial constraints and the need to shift focus to other projects.
The cannabis export landscape is currently ablaze with excitement, with seemingly everyone eyeing the global market. There's a rush to seize the opportunity whenever a new market opens up. This phenomenon is often referred to as "shiny object syndrome," where people leap at every opportunity that presents itself.
🌿
Habitat Life Sciences' story.
It's crucial to pause and consider your "why." Every move you make should align with your organizational objectives. Take, for instance, Kayla Mann, CRO/CFO at
Habitat Life Sciences
, for whom exporting was a means to improve cash flow since profitability was the ultimate goal. They consciously chose not to pursue GMP certification because it didn't make financial sense for their business. However, not being certified exposes them to the risk that their export channel may not always be available. To mitigate this risk, they have diversified by maintaining revenue streams from the domestic market, ensuring they don't place all their eggs in one basket.
Read Habitat Life Sciences' case study
.
🌿
GlassHouse Botanics' story.
At
GlassHouse Botanics
, EU GMP certification has always been their guiding North Star. However, Mariana Balck, Chief Compliance Officer & QAP, concedes that their path was not always linear, and there were times when profitability needed to take precedence, leading them to contract growing and outdoor cultivation. These diversions were essential to sustaining the business, albeit at a slower pace towards achieving EU GMP certification. Ultimately, their unwavering commitment to this standard and securing full organizational buy-in were instrumental in achieving the monumental goal of EU GMP certification.
Read GlassHouse Botanics' Case Study.
Location
Your geographical location plays a paramount role in your pursuit of GMP certification. Canada boasts a strong reputation for quality cannabis and pharmaceuticals, with importers willing to pay a premium for Canadian products. Conversely, if your operations are based in other regions, such as South America or Asia, achieving GMP is possible, but there might be a perception that the quality is not as high. Additionally, getting inspectors to these regions can take a lot of work, potentially taking years. Hence, how your country is perceived is critical to the international market.
Market Research
Consider the avenues available for introducing your product to new markets. Is a quality certification the sole route, or are there alternative pathways? It's also vital to assess the state of the market when you're ready to export. For instance, the German market is already quite saturated. Therefore, exploring alternative markets is recommended if it will take another year to achieve GMP certification.
Timeline and Milestones
With your overarching purpose in mind, develop a comprehensive export plan that takes into account timelines for attaining the necessary quality standards.
Partnerships
Identify individuals who can guide you into new markets, inform you of emerging opportunities, and help you meet international standards. Engaging experienced consultants can eliminate guesswork from your global selling efforts. Selecting the right import partners for your product and ensuring alignment in goals is imperative. Simultaneously, diversify by seeking multiple import partners to safeguard your revenue streams and mitigate risks should one deal fall through.
Financial Plan and Distribution
Gain a clear understanding of the financial investments required for export, particularly the cost of achieving GMP certification. Additionally, define your cannabis distribution strategy in the target market, considering markup and how it will impact your product's sales abroad.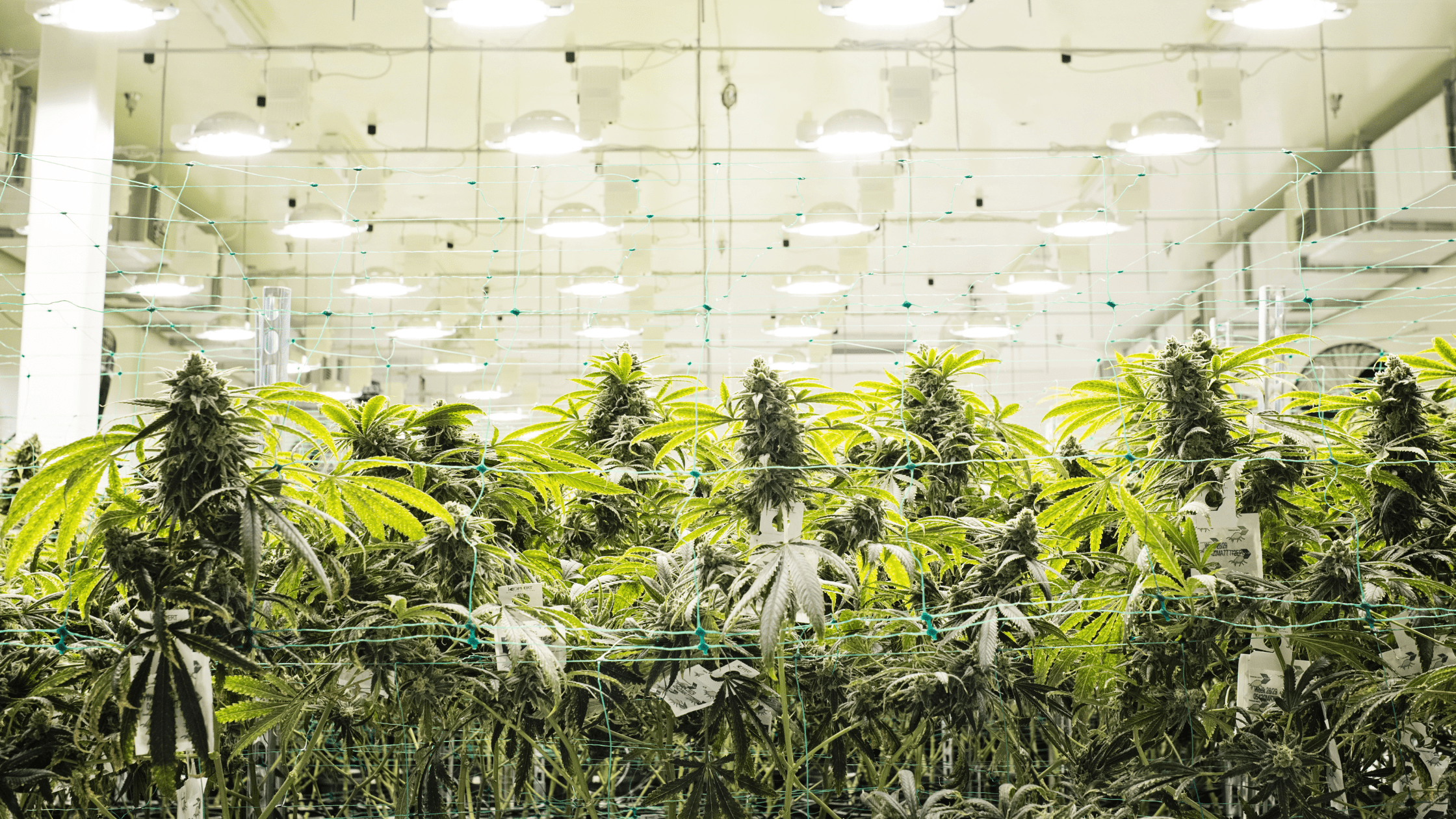 Preparing for GMP and GACP Standards for Cannabis Producers
GMP Certification
While GMP certification is a gold standard for international cannabis export, it's not the only path. Other options exist, such as GACP certification and bulk product sales through certified facilities. However, relying solely on non-GMP channels can be risky, as international markets can change their import requirements abruptly. GMP certification undoubtedly offers a robust and stable foothold in the global market.
🌿
What is GACP? GACP refers to Good Agricultural and Collection Practices for medical plants. GACP is required for activities that involve the cultivation, collection, harvest, cutting and drying of plants. Whereas GMP standards cover extraction, distillation, processing, dosing and packaging of the medicinal products. In some countries, such as Germany, all cultivation and processing activities are required to adhere to EU GMP standards. It's important to have a strong grasp of the requirements of your target export market before pursuing certification.
Want to learn more about GMP requirements? Check out our EU GMP: A Roadmap to Global Cannabis Selling Webinar and guide. We also recommend you contact international regulatory and operations consultants AgCann Consultantcy to learn more about the process and the associated resources required.
Preparing for Quality Standards
GMP certification is a formidable undertaking, demanding significant time and resource investments. To succeed, it's vital to establish a comprehensive plan that encompasses all aspects of the certification journey.
Lessons from industry experts like Mariana Black, Chief Compliance Officer & QAP at GlassHouse Botanics, underscore the following fundamental principles:
Start with basic compliance and GPP requirements in your domestic market
Define and stabilize your processes before pursuing GACP and GMP
Gain organizational buy-in to ensure everyone shares the same goal of certification
Diversify revenue streams to mitigate exporting risks and maintain financial stability
Be prepared for evolving inspection standards; what worked in the past may not suffice today
Building a Competent Team
Achieving and maintaining GMP and GACP standards requires a skilled team dedicated to compliance, and experience in a GPP environment likely won't suffice. Hiring external consultants and assessing your team's competency gaps is crucial to ensuring that your GMP system stays intact. Moreover, organizational commitment, particularly from operations, is vital in achieving GMP certification.
Conclusion
The global cannabis industry offers exciting opportunities for expansion through exports. By carefully considering the essential elements outlined in this blog, businesses can navigate the complexities of international markets, achieve quality certifications like GMP, and secure their position in the dynamic global cannabis landscape. Stay focused on your mission, collaborate with the right partners, and remain adaptable in the ever-evolving world of cannabis exportation!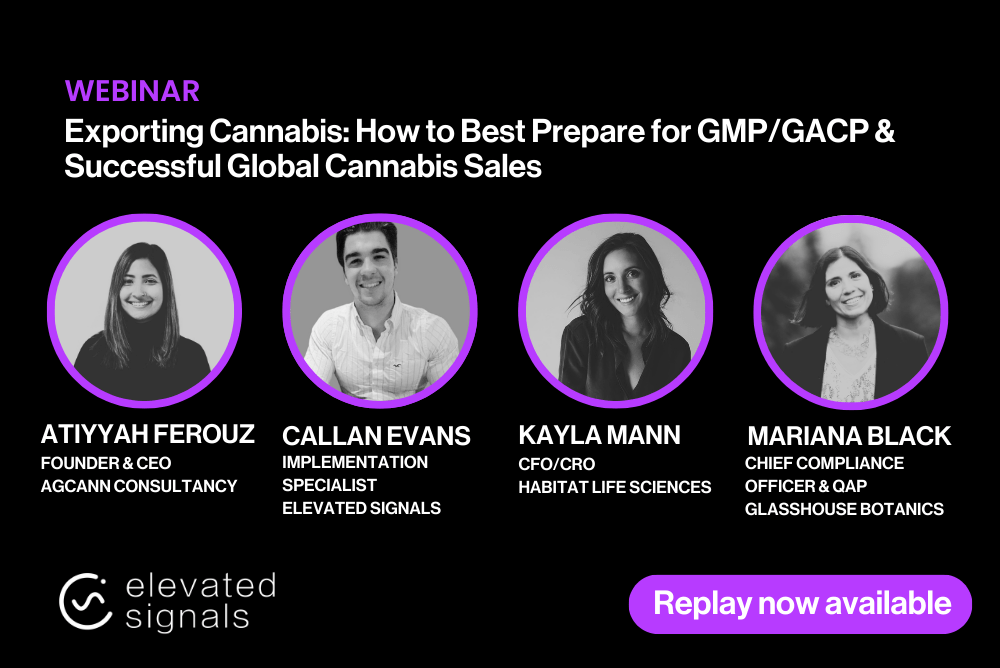 Panelists
Kayla Mann, CFO/CRO, Habitat Life Sciences
Kayla Mann is a CA, CPA and is the CFO/CRO at Habitat Life Sciences (Cake & Caviar), a company revolutionizing agriculture with an innovative approach to vertical growing and aquaponics that provides organic Coho salmon to local markets and organic, premium cannabis internationally.
Kayla has been lending her financial, marketing and sales services in the cannabis industry since 2016, having played many roles across some of the industry's leading companies and brands, including The Valens Company and Cake & Caviar. When she's not working, she loves to golf, eat good food, smoke good weed and be outdoors with her family.
Mariana Black, Chief Compliance Officer & QAP, GlassHouse Botanics
As QAP of GlassHouse Botanics, Mariana is responsible for the overall quality and regulatory compliance. GlassHouse Botanics is a privately owned licensed cannabis producer in Whitewater Region, Ontario. GlassHouse produces bulk dried flower for domestic and international markets, and fresh frozen and fresh cannabis (for further processing) for the domestic market.
Mariana has supported GlassHouse since 2018, with its initial licensing application process, building the company's processes and all their documentation, through the addition of an Outdoor Grow operation, GACP certification and all the way to a successful GMP inspection by the German competent authority in July 2023.
Mariana specializes in implementing quality management systems and, while doing this, in process improvement and project management. Before joining GlassHouse, she implemented and managed an On-Farm Food Safety Program and Management System for more than 400 tree and vine fruit cooperative growers, and managed the food safety system for nine facilities, including a cidery and four packing houses at BC Tree Fruits in the Okanagan Valley. Mariana has filled many roles implementing and certifying food safety and quality systems at food manufacturing facilities. One of her favourites was a consulting role at Manitoba Agriculture, where she helped companies implement food safety programs.
Atiyyah Ferouz, CEO, AgCann Consultancy
Atiyyah is a plant scientist with an extensive background in regulated industries. After completing her MSc in plant molecular biology, she began working at a GMP-certified food facility, gaining experience in QA, regulatory affairs, and product development. Atiyyah then transitioned into the cannabis industry & has since held various roles that have honed her skills in cultivation, tissue culture, post-harvest processing, sales, and business development. She founded AgCann Consultancy in 2020.
Callan Evans, Implementation Specialist, Elevated Signals
Callan works as an Implementation Specialist at Elevated Signals, where he uses his cannabis industry experience to simplify Licensed Producer's processes and determine how Elevated Signals can be best tailored to meet their needs.
With an academic background in Chemistry and Law, Callan began working in the Cannabis industry during legalization to take part in a rapidly evolving landscape. He has advised stakeholders while working both in facilities and as a consultant, allowing him to incorporate best practices for clients while taking practicality into account. With knowledge and experience in operations, regulations and quality, Callan is able to balance each of these pillars when digitizing process flows for Licensed Producers at Elevated Signals.
GMP Recordkeeping Software
GMP QMS requires strong recordkeeping practices to allow for the traceability of batches. Many manufacturers' recordkeeping systems are antiquated by using paper, spreadsheets and outdated software.
Operations, finance and quality teams all have their own systems. The problem with multiple systems is that you cannot access a data set that provides a single source of truth. Using a single piece of software that caters to all departmental needs can significantly improve GMP recordkeeping.
Manufacturing Execution System (MES) Software, like Elevated Signals, can manage plants from cultivation to manufacturing and the creation of final goods, covering the entire supply chain of a product. Elevated Signals is a shop floor tool missing from most operations that can digitally capture batch production records, sanitation records, equipment calibration and more. Data from digital documents can be downloaded in the form of reports and used across the organization, with all teams having access to a single database.
Recordkeeping automation allows batch record creation and reduces errors by using features like predetermined fields in digital forms. These features reduce the time QA is preoccupied with these tasks and allow for higher-value QA work such as batch release.
Batch records are all stored in a single place, which allows for better traceability than fragment systems and leads to efficient complaint investigations and recalls. Data collected from Elevated Signals can allow for product reliability by providing statistical product quality and control.
When considering software, it must comply with your environment. If you're GMP certified, then your software must be GMP validated.

---
Subscribe
Join the newsletter to get the latest updates.
---