GMP Webinar: Feb 24, 2022
We're looking forward to joining Eurofins for Part II of its EU-GMP webinar series later this month.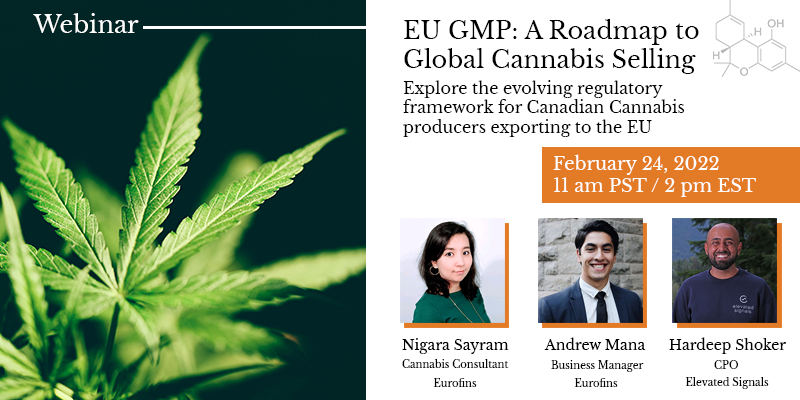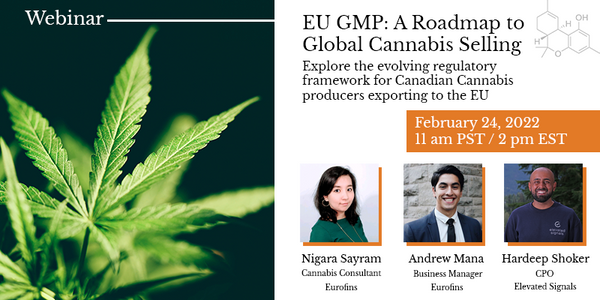 We're looking forward to joining Eurofins for Part II of its EU-GMP webinar series later this month. More information is copied below - tune in if you're planning on getting your EU GMP certification. You can register here.
Date: Feburary 24, 2022 | Time: 11am PST / 2pm EST | Register: here
EU GMP: A Roadmap to Global Cannabis Selling Part II
Recently, Cannabis production has become one of the most prominent emerging industries globally. Canadian Cannabis companies have turned their attention to the import and export of Cannabis for medical purposes and research.
With the evolving regulatory framework for Cannabis in countries other than Canada, Cannabis is often considered an Active Pharmaceutical Ingredient (API) and it is required that the facility be compliant with the European Union's Good Manufacturing Practices (EU GMP). To cope with the emerging needs Canadian producers need to comply with the regulatory steps that are required of an exporter to enter the European market.
Part 2 of this webinar series discusses important quality aspects and requirements to get an EU GMP certification.
Presenters:
Nigara Sayram is the Cannabis Consulting Lead for Eurofins BPT. She has helped over 50 Cannabis applicants to receive their HC Cannabis Licenses. Previously working as a QAP she has helped some of the big players in the industry to receive their EU GMP Certification. Nigara has extensive industry experience in areas of Regulatory Affairs, Quality Assurance, Quality Control and Regulatory Compliance.
Andrew Mana is the Business Development Manager for medical cannabis with Eurofins Experchem. He received his Finance and Economics degree from the University of Guelph and is currently pursuing an MBA at Schulich. Andrew has over 4 years of experience in sales and marketing of cannabis-related products.
Hardeep Shoker is Chief Product Officer of Elevated Signals, an organization that develops GMP-validated manufacturing software for the cannabis industry. With a strong focus on quality, the company manages almost six million sq ft of production area represented by craft producers right through to enterprise-level operators. With over 14 years of experience in software development, Hardeep is passionate about bringing technical best practices from other industries and applying them to the cannabis space.