Recently, cannabis production has become one of the most prominent emerging industries globally. Canadian cannabis companies have turned their attention to the export of cannabis for medical purposes and research.
With the evolving regulatory framework for cannabis in countries other than Canada, cannabis is often considered an Active Pharmaceutical Ingredient (API), and it is required that the facility be compliant with the European Union's Good Manufacturing Practices (EU GMP). To cope with the emerging needs, Canadian producers need to comply with the regulatory steps that are required of an exporter to enter the European market.
In this webinar, Elevated Signals and Eurofins discuss important quality aspects and requirements to get an EU GMP certification. Including Quality System requirements, Quality Control and Recordkeeping (electronic).
What is EU GMP?
EU GMP stands for European Union Good Manufacturing Practices. EU GMP is a set of minimum quality standards that medicine manufacturers must meet in their production process for the EU market. EU GMP sets the standards for how products are manufactured, handled, stored, and packaged.
EU GMP certification is essential for cannabis producers that want to export to European markets. Other markets, such as Australia, will accept EU GMP-certified product exports.
Good Production Practices (GPP) is a quality standard that Canadian producers must meet to manufacture and sell products in the domestic market. Licensed producers in Canada are not required to be EU GMP unless they plan to export to GMP markets.
What is an EU GMP Quality Management System (QMS)?
An EU GMP standard must span all activities within a GMP manufacturer, including production, distribution, storage and even product discontinuation.
A Quality Management System (QMS) aims to deliver consistent products with appropriate quality attributes and developed processing per GMP requirements.
A QMS also details managing outsourced activities, such as third-party testing or sourcing ingredients.
Self-inspection audits are conducted regularly as part of the QMS to verify compliance with GMP.
EU GMP requirements
Clearly defined manufacturing processes
Critical steps of manufacturing processes are validated
All personnel are trained
Suitable equipment and services are used
All procedures and instructions are approved before implementation
Records are made manually or by recording instruments during manufacturing
A system is available to recall any batch of products
Complaints about products are examined, and measures are taken
Regular review of all authorized medicinal products
Personnel Training
All staff receive training on their specific job, GMP, Good Documentation Practices (GDP), and other relevant procedures as required.
A training program should be in place as part of the QMS and should track which employees have been trained on which Standard Operating Procedures (SOPs) and policies via a training matrix. Staff should be trained continuously, yearly or when documents are updated. All training records must be retained.
What is EU GMP Documentation?
EU GMP documentation includes:
Site master file
Instructions
Records and reports
A site master file defines the GMP-related activity that is conducted at the manufacturer.
Instructional documents include Standard Operating Procedures (SOPs), specifications and validation documents. These documents must be reviewed and approved by knowledgeable personnel for accuracy and relevancy to keep them up to date.
Records and reports produce evidence of compliance with instructional documents (such as SOPs). These documents can include the following:
Certificates of Analysis (COAs)
Deviations
Change controls
Complaint investigations
For documents to meet Good Documentation Practices (GDP), they need to be:
Attributable (identify the person who performed the task)
Legible
Contemporaneous (time stamped)
Original
Accurate
The duration that documents need to be retained is indicated in the procedures. The EU GMP manufacturer should have a way to store the documents in a way that maintains their integrity.
Validation
Validation is a crucial element in the EU GMP QA program. Validation is the documented evidence assuring the desired outcome with predetermined compliance.
There are different types of validation:
Equipment validation
Process validation
Cleaning validation
Analytical method validation
Equipment validation includes design, installation, operational and performance qualifications (DQ, IQ, OQ, PQ).
Process validation is required for each new product line. The validation ensures that the manufacturing process results in consistent product quality.
Cleaning validation confirms the effectiveness of the cleaning procedures for all product contact equipment. Sampling should be carried out to verify the suitable reduction in pathogens.
Analytical method validation ensures the precision, accuracy and consistency of the analytical tests performed on the product.
What are the aspects of Quality Control for EU GMP?
Quality Control in EU GMP includes:
Sampling
Specifications
Testing
Documentation
Release procedures
The sampling process should have procedures that ensure samples represent the entire lot.
Specifications should reference acceptable pharmacopoeia. Reference standards are established suitable for their intended use (e.g. inhalation, ingestion, or topical application)
Testing methods should be validated to USP and EP standards. Before sending samples over to a third-party lab, a Quality Assurance contact should be in place. The third-party lab must also be GMP certified to meet EU GMP manufacturing standards.
Stability studies must be done on the finished product in its final container using a validated test method. For EU GMP, short-term and long-term studies must be completed on the product.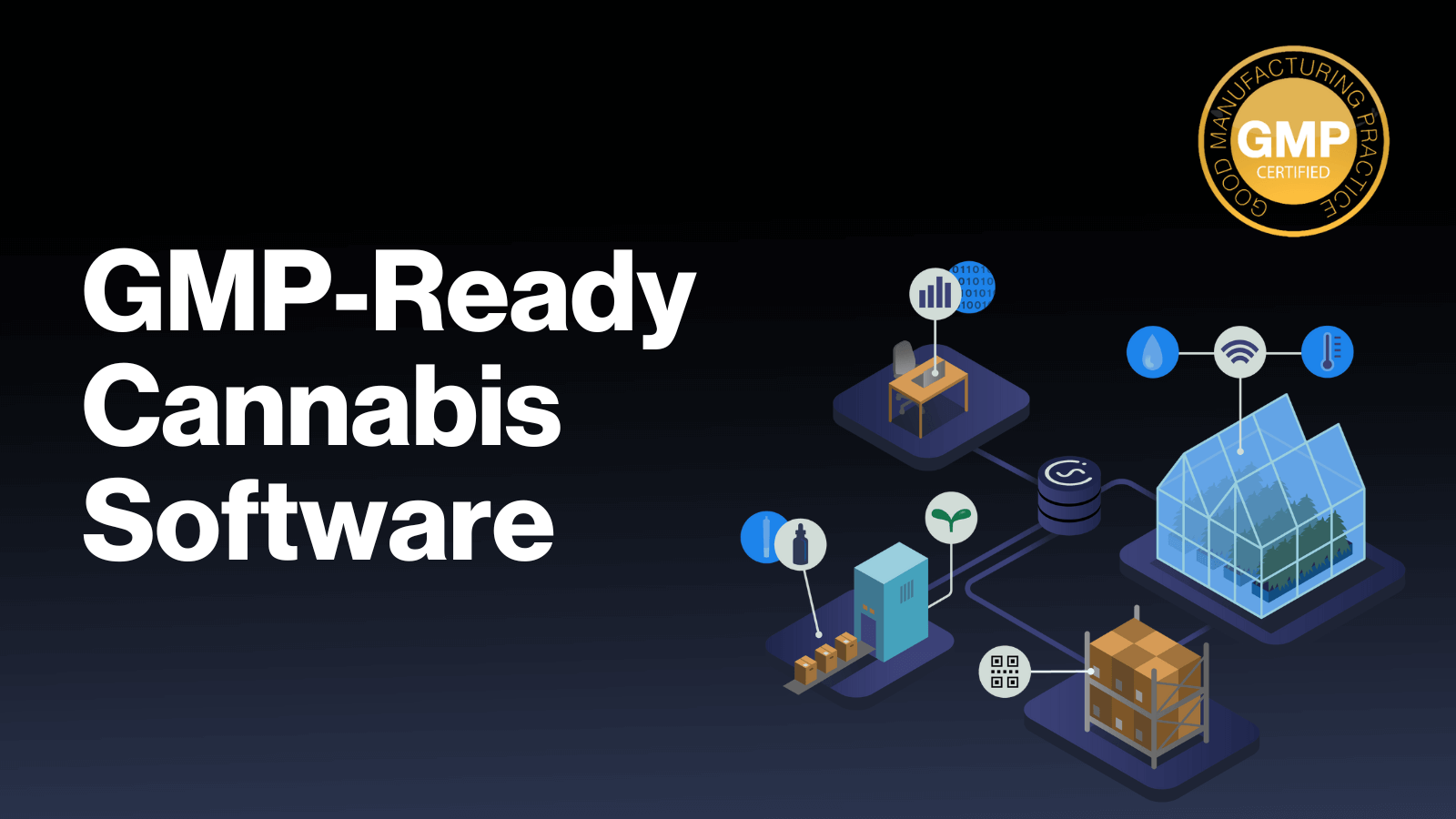 EU GMP Recordkeeping Software
As mentioned, EU GMP QMS requires strong recordkeeping practices to allow for the traceability of batches. Many manufacturers' recordkeeping systems are antiquated by recordkeeping, using paper, spreadsheets and outdated software.
Operations, finance and quality teams all have their systems. The problem with this is that multiple systems don't allow for a data set that is a single source of truth. Software can significantly improve EU GMP recordkeeping.
Manufacturing Execution System (MES) Software, like Elevated Signals, can manage plants from cultivation to manufacturing and the creation of final goods, covering the entire supply chain of a product. Elevated Signals is a shop floor tool missing from most operations that can digitally capture batch production records, sanitation records, equipment calibration and more. Data from digital documents can be downloaded in the form of reports and used across the organization, with all teams having access to a single database.
Recordkeeping automation allows batch record creation and reduces errors by using features like predetermined fields in digital forms. These features reduce the time QA is preoccupied with these tasks and allow for higher-value QA work such as batch release.
Batch records are all stored in a single place, which allows for better traceability than fragment systems and leads to efficient complaint investigations and recalls. Data collected from Elevated Signals can allow for product reliability by providing statistical product quality and control.
EU GMP software requirements

When considering software, it must comply with your environment. If you're EU GMP certified, then your software must be GMP validated.
Eurofins Services
The team at Eurofins are GMP experts who can help answer any questions about preparing for certification.
Their services include:
Mock GMP audit, gap analysis
QMS set up
SOP preparation and or review
GMP docs prep - SMF, VMP, cleaning validation protocols, process validation protocols, etc.
GMP training
Testing  - Cannabis, chemistry, microbiology, stability, environmental, food, NHPs etc.
About the Presenters:
Nigara Sayram is the Cannabis Consulting Lead for Eurofins BPT. She has helped over 50 Cannabis applicants to receive their HC Cannabis licences. Previously working as a QAP, she has helped some of the big players in the industry to receive their EU GMP Certification. Nigara has extensive industry experience in Regulatory Affairs, Quality Assurance, Quality Control and Regulatory Compliance.
Andrew Mana is the Business Development Manager for medical cannabis with Eurofins Experchem. He received his Finance and Economics degree from the University of Guelph and is currently pursuing an MBA at Schulich. Andrew has over four years of experience in sales and marketing of cannabis-related products.
Hardeep Shoker is the Chief Product Officer of Elevated Signals, an organisation that develops GMP-validated manufacturing software for the cannabis industry. With a strong focus on quality, the company manages almost six million sq ft of production area represented by craft producers right through to enterprise-level operators. With over 14 years of experience in software development, Hardeep is passionate about bringing technical best practices from other industries and applying them to the cannabis space.
---
Subscribe
Join the newsletter to get the latest updates.
---