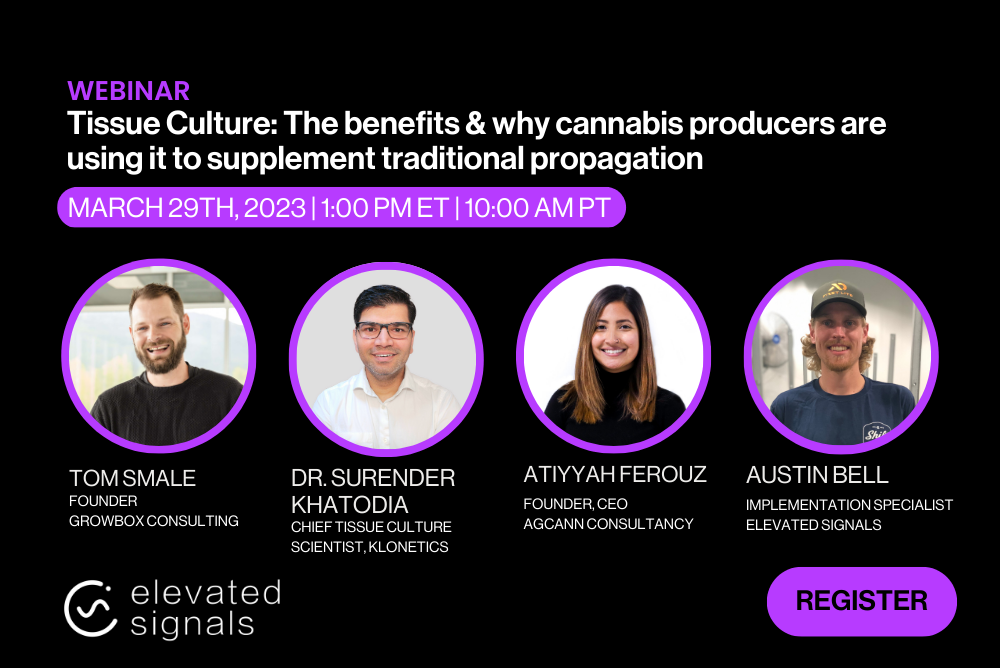 Are you considering using tissue culturing in your cannabis facility?
Join our webinar, where our expert panellists explain the impact of pathogens in the production environment and the benefits of cannabis tissue culturing. They will also discuss their first-hand experience applying tissue culturing in facilities and the results they saw.
Wednesday, March 29th, 2023 | 1-2 PM ET / 10-11 AM PT
What we'll be discussing:
The issues with traditional propagation
The problem of viruses and microbes and their impact on cannabis production
Cannabis tissue culturing and its benefits
The results our panellists have achieved with cannabis tissue culturing
How to set up your cannabis tissue culturing lab or source it for your business
The Panellists
Atiyyah Ferouz, CEO, AgCann Consultancy
Atiyyah is a plant scientist with an extensive background in regulated industries. After completing her MSc in plant molecular biology, she began working at a GMP-certified food facility, gaining experience in QA, regulatory affairs, and product development.
Atiyyah then transitioned into the cannabis industry and has since held various roles that have honed her skills in cultivation, tissue culture, post-harvest processing, sales, and business development. She founded AgCann Consultancy in 2020.
Dr. Surender Khatodia, Chief Tissue Culture Scientist, Klonetics
Surender leads the scientific & technical operations of the commercial-scale cannabis micropropagation at Klonetics for cannabis tissue culture gen zero clones production.
He brings over 15 years of extensive experience in plant tissue culture and genomics work on various crops. During the last four years, he has made progressive developments in optimizing the methods of pathogen eradication for clean clone production, genetic testing and germ-plasm conservation of the popular cannabis cultivars.
Tom Smale, Founder & CEO, Growbox Consulting
Tom is the founder and CEO of Growbox Consulting. He has worked with multiple brands and facilities across Canada to bring high-quality craft cannabis to market while providing facility operations and compliance support.
Growbox Consulting was built from the grow room out and Tom and his team have been able to offer guidance and leadership from the growers perspective while understanding the many regulations and challenges that the industry faces on a day-to-day basis.
Austin Bell, Implementation Specialist, Elevated Signals
Austin works on the Customer Success team at Elevated Signals, helping cannabis operators implement software to optimize their operations and improve their products.
He has been working with the cannabis plant for the last 15 years in both the legacy and licensed markets. His experience is based around leading teams and operations in the production space, with an emphasis on extraction and cultivation. Austin brings a passion for the plant and its potential for healing to all of his cannabis work.
---
Subscribe
Join the newsletter to get the latest updates.
---