In this blog, we will delve into the onboarding process at Elevated Signals, highlighting how we ensure a seamless and successful implementation. Our unique approach to onboarding and system implementation sets us apart from other software providers.
Join us as we explore the steps we take at Elevated Signals to make sure your team is fully onboarded and confident with our software. We will guide you through the onboarding process and provide you with a clear understanding of what your experience will look like.
"It took us four weeks to train and implement Elevated Signals. The transition was very smooth. We had a schedule, a go-live date and a sandbox, so we could make mistakes and train our staff without impacting our operations. The structured approach included defining our inventory and digitizing our forms, as well as dedicated customer support once the system was live, so we could ask questions." Michael Inman, Director of Quality Assurance, Rocket Factory.
Why is a successful software implementation important?
Before we go through our approach to onboarding, it's important to understand why a successful software implementation is so important.
A poor onboarding process can lead to your team members not being confident in how to use the platform, leading to frequent mistakes and the software not being used properly. Without proper onboarding, companies don't get the benefits of the software. Instead, it can really complicate things for the company. A successful implementation means that your operation will be properly set up to use the system in the long term.
We've seen examples where a piece of software is partially implemented, and producers are forced to keep a parallel manual system (like paper and spreadsheets) to keep track of company information - creating double the work for the team. This leads to disruption of operations, a decrease in productivity, wasted resources and loss of data integrity.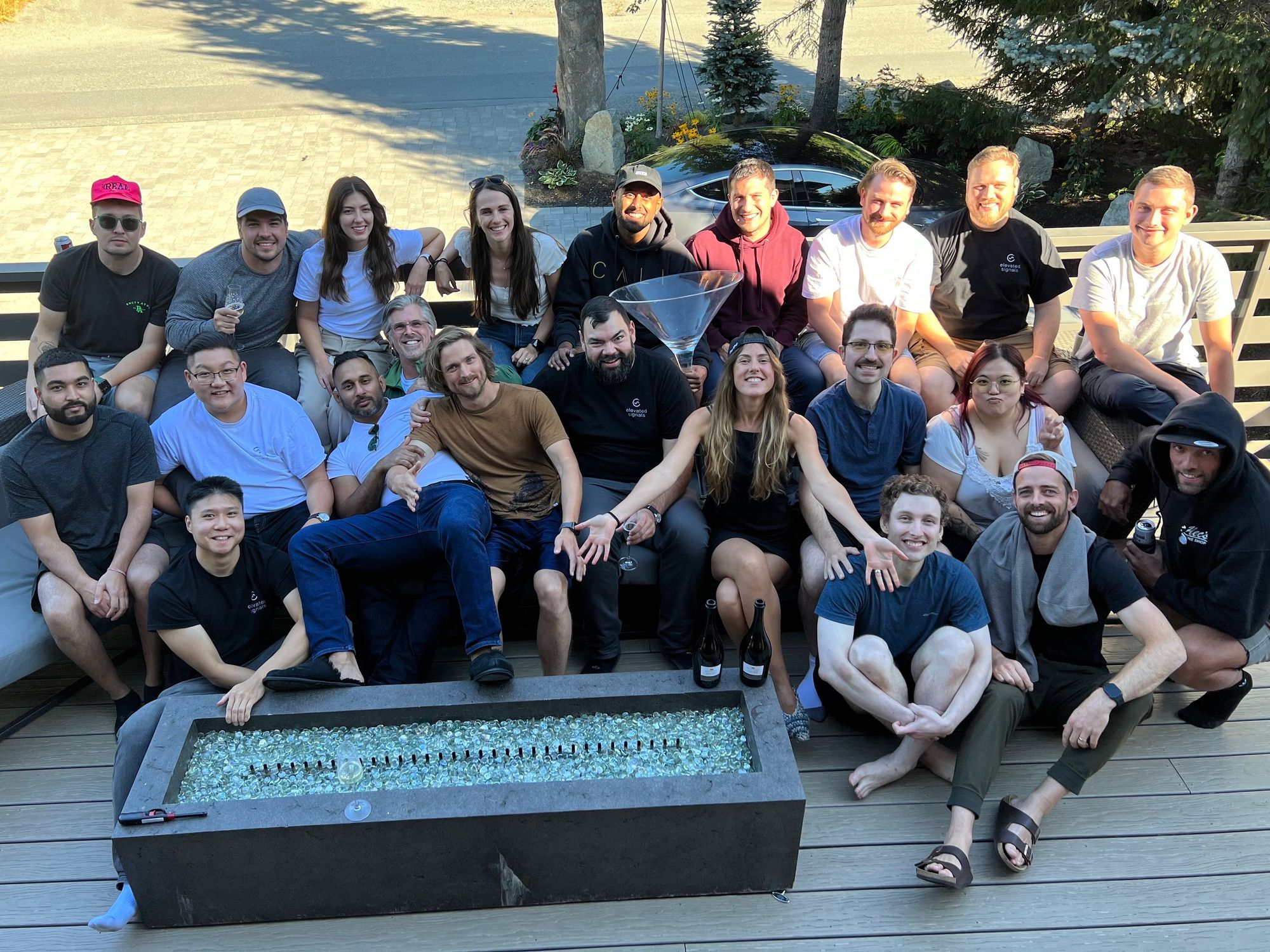 Our approach to onboarding
At Elevated Signals, we're dedicated to providing you with an exceptional onboarding experience that sets the foundation for your long-term success with our software. Our team is committed to delivering a seamless implementation process tailored to meet your specific needs and requirements.
Proven track record of successful onboarding
Having successfully completed hundreds of implementations for licensed cannabis operations, we've used our wealth of experience to refine our onboarding process and ensure a high level of success.
Our track record speaks for itself, with a success rate of over 95%  for our implementations. This starkly contrasts traditional Enterprise Resource Planning (ERP) projects, where 55% to 75% fail to meet their objectives.
What sets us apart is Elevated Signal's flexible platform that's tailored to the needs of cannabis producers alongside our fantastic and experienced customer success team.
As change management experts, we collaborate closely with your team to establish milestones, define clear timelines, and assign responsibilities. By working together, we empower you to project manage the implementation effectively, setting you up for a successful outcome.
Exceptional customer success team with cannabis industry experience
What truly sets our team apart is our firsthand experience in the cannabis industry. Many of our team members have worked directly in cannabis facilities, giving them a deep understanding of your unique operational challenges.
Our expertise extends across licence types, encompassing the Canadian market and operations in the US and international markets.  We have successfully implemented our software in cannabis facilities of all shapes and sizes.
Fast time-to-value and continuous operational wins
Our approach is laser-focused on delivering rapid value. We prioritize minimizing the time-to-value (the speed at which you can witness tangible operational improvements from our software.)
🌿
What is time-to-value? Time-to-value refers to the speed and efficiency with which a new software solution delivers measurable benefits and returns on investment after implementation. It focuses on how quickly the software enhances operational processes, increases productivity, and positively impacts the business.
Elevated Signals stands out with its remarkably swift implementation window, allowing you to experience the benefits in record time. Our software is thoughtfully designed to offer a high degree of customizability, empowering users to tailor it to their specific needs. With flexible roles, permissions, and guardrails, you can continuously adapt the software to align with the evolving demands of your operations.
In stark contrast, many other software solutions in the market can be lengthy and cumbersome to build, test, implement, and iterate, taking years to fulfill operational requirements.
Elevated Signals ensures you experience operational victories from day one,  and gain further returns in the subsequent months. These operational improvements are directly tied to the subsequent Return on Investment (ROI) that you'll witness as a result of using our software.

🌿
On day one with Elevated Signals, your team will be able to access a centralized system with your live facility data, streamlining collaboration between departments and helping you make informed decisions.
Elevated Signals onboarding steps
Say goodbye to your previous system and embrace a cleaner, more efficient approach to managing your production data. With our expertise, we help you develop a robust change management strategy to help you transition.
Let's jump into what it's like to onboard Elevated Signals.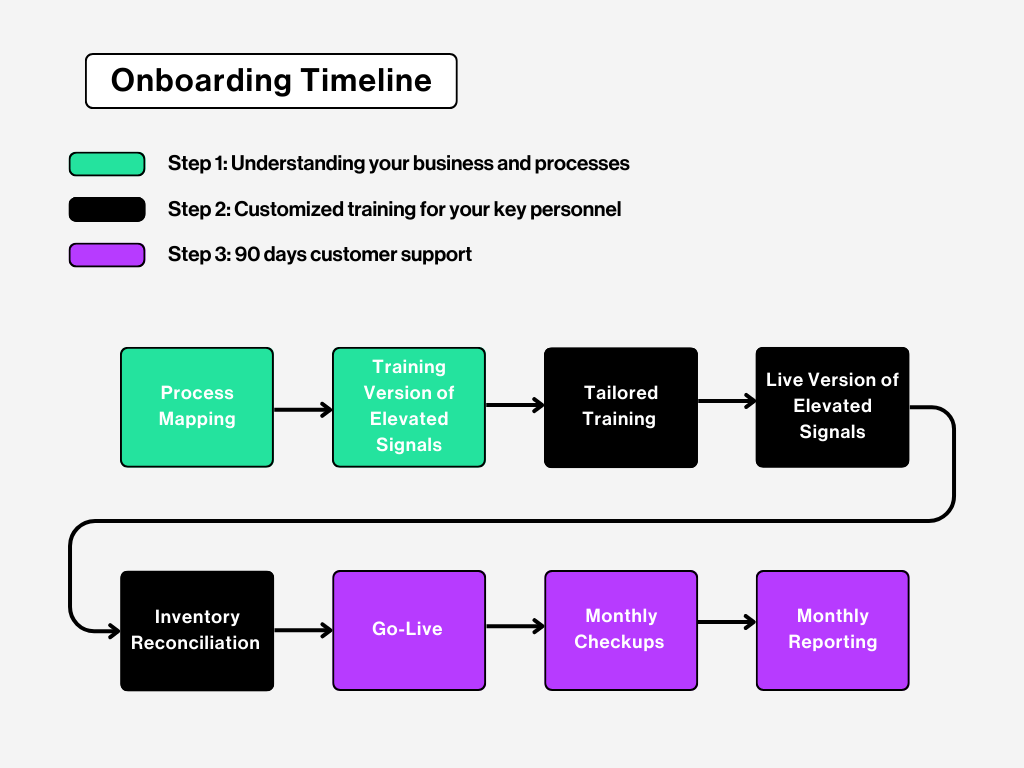 Step 1: Understanding your business and processes
In the initial phase of onboarding, we learn about your business and challenges. You might be struggling with managing parallel digital and paper recordkeeping systems or your team is spending too much time collecting production records, resulting in a slower batch release. We'll prioritize the most pressing issue, address it quickly, and optimize the software to resolve it.
During this step, we'll help you migrate your paper records and forms to digital versions and import your inventory into Elevated Signals.
We also customize workflows within Elevated Signals to align with your specific terminology and unique nuances related to common cannabis business activities.
We work collaboratively to establish clear next steps for our team and yours. This ensures that you have a solid understanding of your responsibilities and project milestones.
"We wanted to use all of Elevated Signals' features as soon as we were ready to begin our operations, so we worked closely with the customer success team, who were super helpful from the beginning. They taught us how to use the software, and helped us with our processes, by showing us the best way to complete quality record keeping and inventory tracking compliantly," Marc Pelletier, Co-Founder and Co-CEO of VASCO.
Step 2: Customized training for your key personnel
After successfully migrating your processes into the training version of Elevated Signals, we then train the key team members who will be regular users of the software.
Your employees will have the opportunity to practice using Elevated Signals, allowing room for mistakes and providing an open platform to ask our team any questions.
Before your facility enters the "Go Live" phase (when you're using the software in your day-to-day operations) we check that all the data entered in the system is accurate. This step ensures a smooth and successful data migration.
The customer success team at Elevated Signals was fantastic and extremely reliable. No matter how many questions we had or the nature of the question, they always got back to us," Mariana Black, Chief Compliance Officer & QAP, Glasshouse Botanics Inc.
Step 3: 90-day customer support
After your facility is operational on Elevated Signals, you will enter a phase called "Hypercare," which spans 90 days following your "Go Live" date.
During Hypercare, our customer success team is available as needed to shadow processes, talk through workflows, make adjustments and offer the support your team needs in the initial days of software usage. Think of this period as a ride around the block with training wheels on.
We will proactively check in on your system to ensure everything is running smoothly. This portion of onboarding marks the transformation from having a functional system to operating with a well-oiled machine. (This is when you will start seeing even more operational wins as you iterate your processes).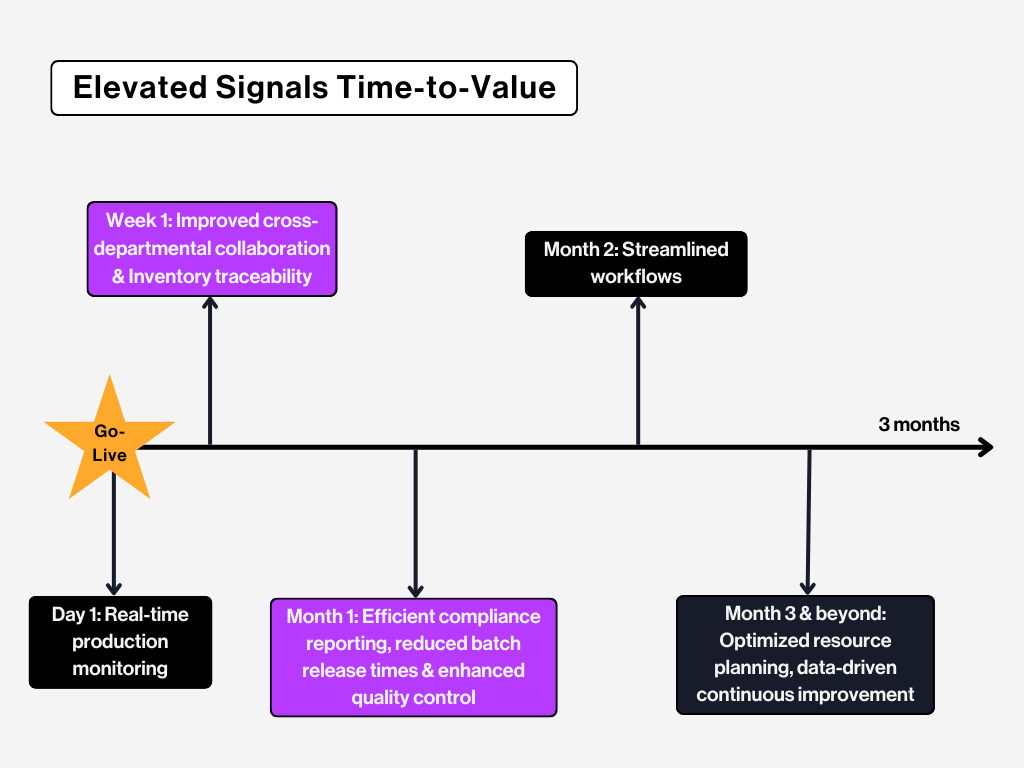 Time-to-value: Operational wins after implementation:
Day 1:
Real-time production monitoring: Get immediate visibility into production processes, track production status, identify bottlenecks and address issues quickly.
Week 1:
Improved cross-departmental collaboration: Centralized data access by quality, operations, finance and sales teams improves communication between departments and allows for better collaboration and decision-making.
Batch traceability: Trace batches from cultivation to finished products, facilitating compliance with regulations and improving product quality control.
Month 1:
Efficient compliance reporting: Accurate and up-to-date inventory with reconciliation tools to reduce hours spent on CTS/CTLS reporting.
Reduced batch release times: Streamlined digital, inventory and recordkeeping management prevents mistakes and eliminates record collecting, saving time and speeding up batch release.
Enhanced quality control: With digital access to all records, batch traceability and digital signatures, quality investigations are streamlined, reducing the risk of recalls and ensuring consistent product quality.
Month 2:
Streamlined workflows: Standardized and automated workflows eliminate manual tasks, reducing errors and freeing up employees' time for more value-added activities (like product development, expansion into new markets, and process optimization).
Month 3 & beyond:
Optimized Resource Planning: Insight into inventory levels and production enables you to align production with demand, and avoid underutilization of resources and waste.
Data-Driven Continuous Improvement: Access to data and performance metrics enables continuous improvement initiatives, identifying areas for optimization and innovation.
Continued support & ongoing success
Once the 90-day Hypercare period ends, you will have continued support through our Customer Success ticketing system. This ensures that you always have a reliable resource to address any questions or concerns that may arise.
If you need additional support beyond our standard resources, we offer Customer Success support packages to assist with anything from tailored training for new key staff to assist in setting up new processes.
"What particularly stood out for us as a new client, was the willingness to invest in our business with time and resources, which included face time with numerous team members. They were able to address customizations, roll out features unique to us and most importantly, listened to our feedback," Braeden Calyniuk, Co-Founder, of Leaf Infusions Inc.
Final thoughts
We hope this blog gave you valuable insight into how we approach onboarding new customers and navigating the system change management process. At Elevated SIgnals, we take immense pride in offering top-notch customer support that sets us apart in the industry. We genuinely hope to have the privilege of working with you in the future, leveraging our expertise to support your success. Please don't hesitate to reach out to us for any further information or inquiries.
"Our customer success manager at Elevated was great. It was an easy transition from our old system, training was smooth, and we were fully up and running on Elevated Signals within a month."Lucas Wiebe, Lead Grower, Lotus Cannabis Co.

---
Subscribe
Join the newsletter to get the latest updates.
---