Elevated Signals has a hot new integration that helps you solve one of the most hated problems in manufacturing environments.
Double handling of data 🤢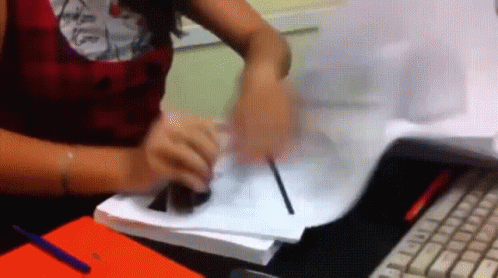 We've teamed up with our friends over at Isolocity, an eQMS software provider, to solve this problem, and we want to tell you all about it!
Before we jump in, here is a quick refresher on the important differences between MES (Elevated Signals) and eQMS (Isolocity) systems.
What's the difference between Manufacturing Execution System (MES) and Electronic Quality Management System (eQMS)?

Manufacturing Execution System (MES) is a system that combines cannabis and non-cannabis inventory management, digital batch records, reporting and environmental monitoring in a single platform. It tracks all work-in-progress at any given time, including cultivation, harvest, grading and extraction processes. An MES alleviates cannabis producers and processors (of all sizes) from paper records and spreadsheets while helping them maintain accurate inventory.
Electronic Quality Management System (eQMS) is a system that helps you set up and support a quality assurance program. It allows you to document and monitor processes, procedures and responsibilities to meet customer and regulatory requirements. The key features of a QMS are Corrective Action/Preventive Action (CAPA), Learning Management System (LMS), controlled document management and Certificates of Analysis (COAs). They are typically favoured by cannabis facilities with 10+ employees.
Cannabis companies must have systems in place for record-keeping, inventory, and quality assurance programs to be compliant and operationally effective.
While MES and eQMS cover entirely different aspects of operations and quality assurance, there is an overlap of information required by the two systems. So regardless of your technology stack (or lack of if you still run on paper and spreadsheets!), you'll be subject to double handling of data - meaning you must do the same task twice and enter the same data into different systems.
What is double handling of data?
Double handling of data means you must do the same task twice and enter the same data into different systems.
A typical example is copying inventory numbers from a record into a digital inventory system. Someone might accidentally enter the number 4 instead of 7 into a system, and as a result, you're dealing with inventory discrepancies. You see why we want to avoid this, as it negatively impacts the effectiveness of your operations.
How can double handling of data be prevented?
Double handling of data can be prevented by integrations between your systems. One system will feed information into another, so you don't have to manually enter the data twice.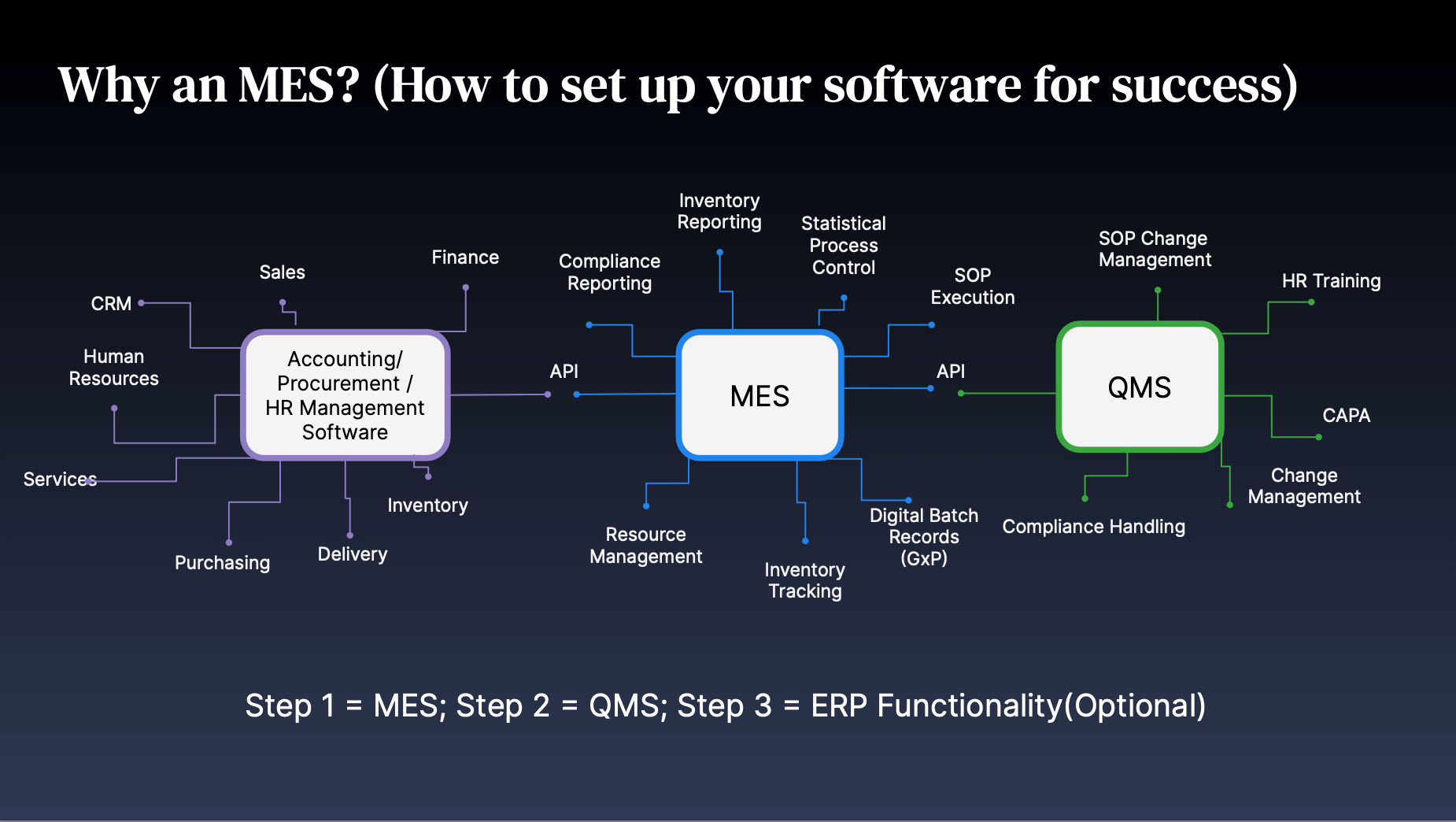 About our integration with Isolocity
To ease this pain, customers can now automatically pull data from Elevated Signals' MES straight into Isolocity's eQMS.
Allow us to introduce Isolocity!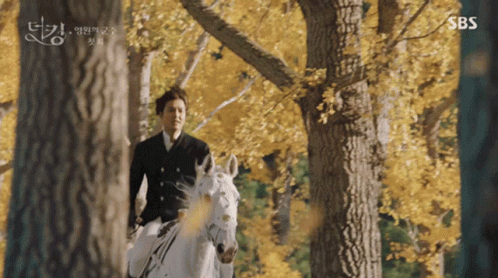 Isolocity provides eQMS software to help you stay compliant no matter where you're located. It uses GMP/EU GMP and other quality principles to allow companies to meet global compliance standards.
Beyond regulations and standards, here are some of the benefits of using Isolocity:
Improved batch consistency
Reducing rejected batches and non-conformities
Increased customer satisfaction
Improved operational efficiency
Our integration allows you to import inventory and Batch IDs from Elevated Signals directly into Isolocity!
This alleviates double-handling of data, meaning you don't have to enter the same data already stored in Elevated Signals—reducing the risk of transcription errors and discrepancies while saving you time.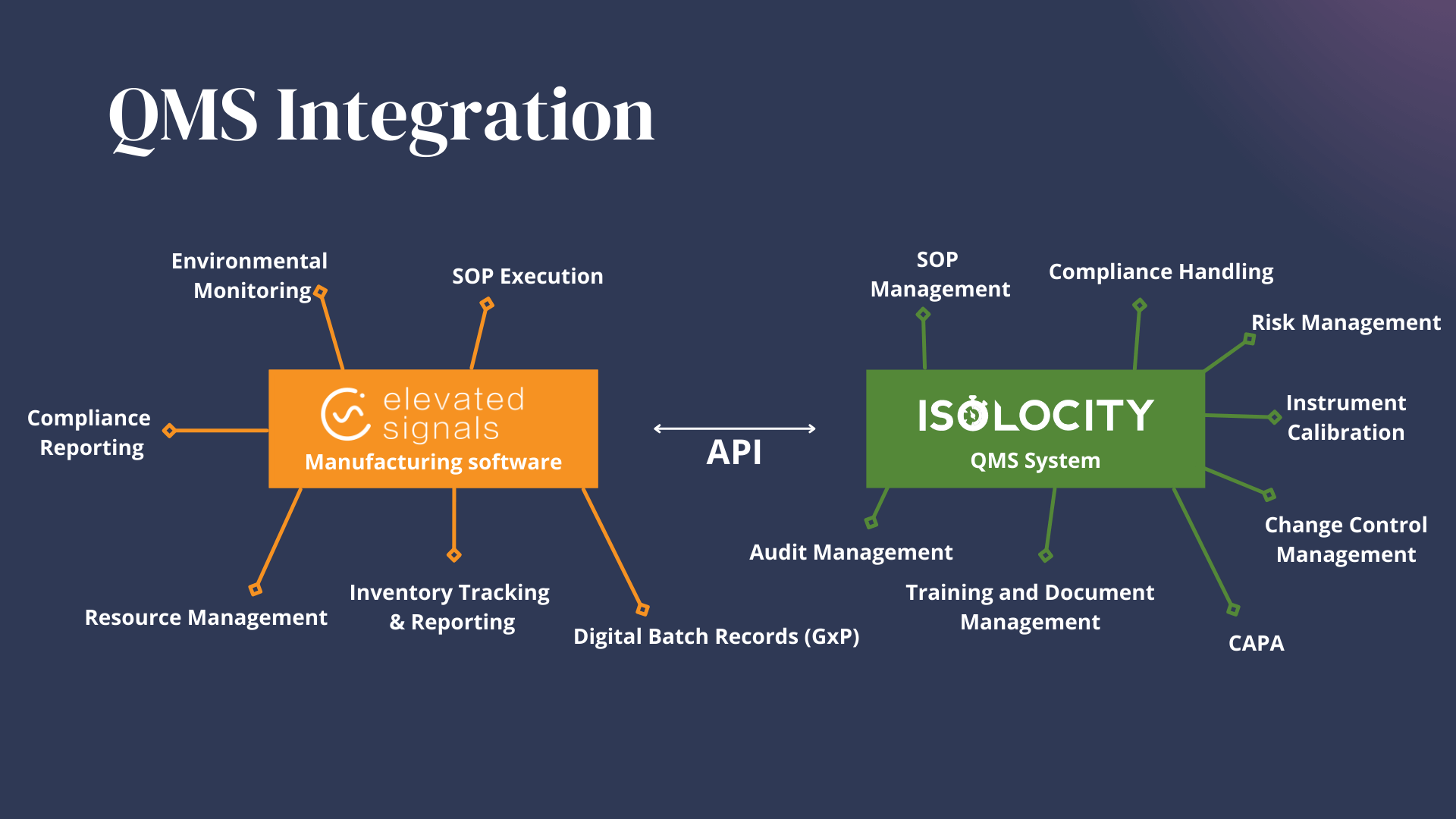 Benefits of Elevated Signals and Isolocity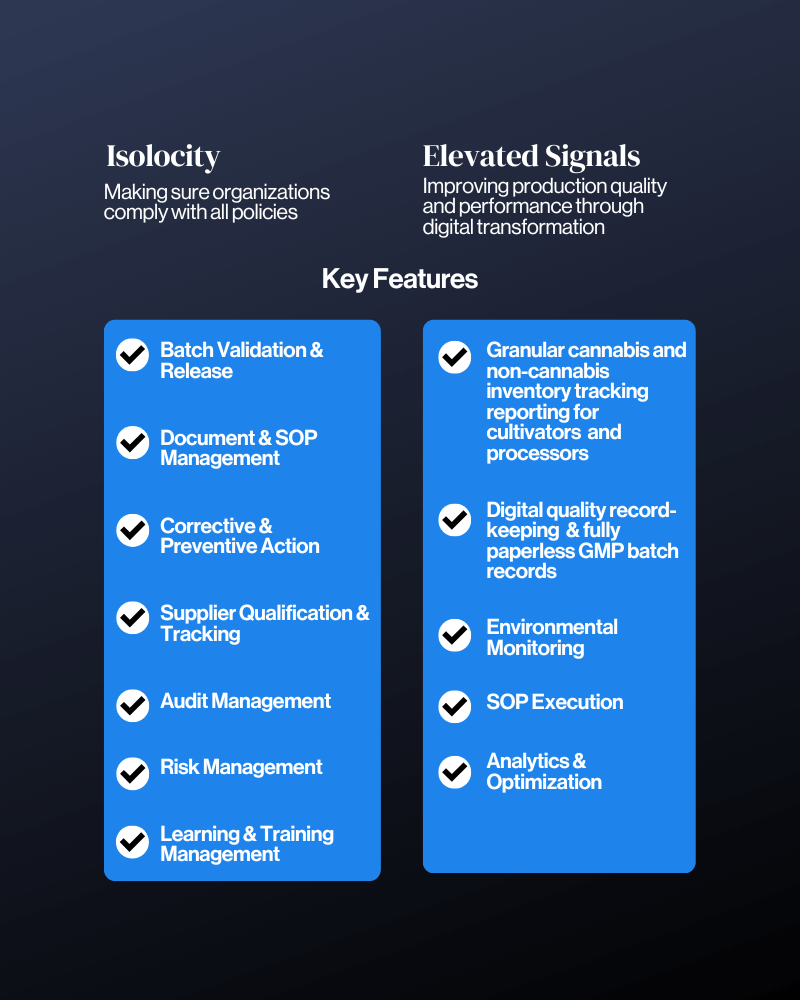 Ready to get started?
If you're already an Elevated Signals and Isolocity user, reach out to your Isolocity Account Manager or a member of the Elevated Signals team to set up the integration.
The Isolocity team will take care of the integration and setup. All you have to do is provide login credentials to log into your Elevated Signals account.
If you're interested in learning more about Elevated Signals and how it can help you, contact us, and one of our sales representatives will be happy to reach out to you.
---
Subscribe
Join the newsletter to get the latest updates.
---